This spring I had the pleasure of visiting wonderful artisans in and around the city of Lecce which is located in the southernmost province of Salento, Puglia.
Let me introduce you to some of these congenial, generous artisans whose passion for and commitment to their craft is apparent and contagious! I hope that after you read about them, you'll not only agree but, you will join me this fall or in 2015 and meet them for yourself!
Made in Puglia!
One of the greatest joys of traveling, for me, is experiencing and immersing in the local lifestyle. What is the history of this place? What art and architecture will I find here? What are the local traditions and customs?  What are the local crafts? And, of course, what culinary specialties are they known for? (Not to mention the local wine!)
Traveling in Italy, you will, of course, find similar customs and general cultural parallels, just as you would in any country. But you will also definitely find distinct and obvious differences and a rich diversity from region to region, sometimes even within a region.
Let's not forget that Italy was a collection of city-states until its unification in1860 and, to some extent, it's still a collection of city-states i.e. 20 regions. Each of the these regions has a proud history and heritage (often as rivals with other regions!) and so each has its own distinct characteristics and "flavor".
Over many centuries, geography and long histories of being invaded-conquered-ruled by other civilizations (who proceeded to integrate and assimilate with the locals) has influenced and defined each region. Hence, as you travel from one to another, you can experience and enjoy a truly unique fusion of many cultures.

Puglia is no exception! Strategically located, the "heel" of Italy's boot has been invaded, ruled and influenced by (to name a few over the last few thousand years!) the Greeks, Romans, Turks and the Spanish. All of these civilizations have left their mark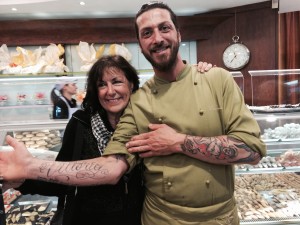 and are reflected in its culture, art, cuisine and customs.
Artisanal or artigianale excellence is alive and well here in Italy and, again, Puglia is no exception! Exactly what does that mean? It means that whatever you are eating, drinking and/or purchasing was made locally with local ingredients or materials. Handcrafted with love and pride, these artisans are committed to preserving the past and carrying on local traditions for future generations.
For me, it's especially wonderful to have the opportunity to meet local artisans, as we did in Puglia. Not only is it an experience most "tourists" never have, but it's also a way to show my appreciation and respect for their skills, to support their efforts and to encourage others to do the same.
So, let's begin shall we?

Let's Visit Valentino and Donato at Azienda Agricola Taurino for Olive Oil Tasting
I had read and seen pictures of Azienda Agricola Taurino, but to actually visit was very special. Located in Squinzano (near Lecce), Agricola Taurino has been family owned and operated for almost 30 years. The tasting room and production plant sits in the midst of thousands and thousands of olive trees. (Note that there are an estimated 60 million olive trees in Puglia and it's the largest producer of olive oil in Italy!)
Their Oliva oil, liquid gold, is lovingly and scrupulously produced on site. They grow 12 varieties of olives and all of their oils are extra virgin and cold pressed within 8 hours of being picked. Now that is fresh! Using the most modern methodology and technology while observing strict governmental regulation, Agricola Taurino is committed to producing only the highest quality organic product.
After an informative tour, our expert guide Valentino, and co-owner Donato, introduce us to the nuances of tasting olive oil as well as sharing about its many benefits. We enjoy sampling some of their exquisite Oliva organic oil and, luckily, have the opportunity to bring some home (as well as some of the other yummy patés and condiments)…
Of course, I did and I can't wait to savor another "taste of Puglia"!
Grazie, Valentino, Donato, and the Agricolo Taurino Family!
Visit Azienda Agricolo Taurino and learn more about the history and importance of olive oil in Puglia.
This slideshow requires JavaScript.

Let's Visit Carlo and Cantina San Donaci for Wine Tasting
We are greeted and welcomed to Cantina San Donaci by Carlo and Francesca. Producing premium wines since 1933, San Donaci produces wine from the delicious varietals unique to the Salento region including:  Salento Chardonnay, Primitivo, Rosato, Negroamaro, and Salice Salentino.
Before our tour, Carlo, gives us an interesting overview and background of San Donaci which is one of the oldest wineries of the Salento countryside and whose motto is "vité e vine dal Salento" (lives and wines from Salento). Sourcing their grapes from a cooperative of 300 growers, they are committed to excellence blending traditional methods with modern technology to produce the highest quality wines. He also demonstrates that their affordable vino da tavola (table wine) can literally be pumped and purchased by the liter! Wow! Fill 'er up!
Puglia, by the way, is and has been one of the biggest producers of wine In Italy for decades, but their wine was often used to "boost" wines in other regions (e.g. Tuscany).
This was a long held secret…until now. Today Puglia is stepping onto the world stage and taking their rightful place in the oenological limelight with their notable and quite fabulous wines.
After touring the vast underground cellar (la bottaia), which has been used since the 14th century to store wine, it's time to sample some of Salento's finest varietals!
Paired with the appropriate cheese or salami, Carlo and Francesca present a a delicious wine tasting in their Cantina. Not only is it fabulous but so reasonably priced (would you believe 6 – 9 Euros per bottle?!). Unfortunately we can't ship it home (they don't have a local distributor) but we can take a few bottles with us to enjoy later! And we do!
Grazie, Carlo, Francesca, and Cantina San Donaci
Learn more about Cantina San Donaci and about Puglia's renowned wines.
This slideshow requires JavaScript.

Let's Visit Cosima and Luigi at Azienda Agricola Quarta Luigi for Cheese Making
It's a drizzly spring day as we head to the outskirts of Lecce. We turn onto a narrow country road leading to a small farm and facility. We're going to see fresh cheese being made!
Azienda Agricola Quarta Luigi is a compact scrupulously clean facility. Here, Cosima and Luigi have been working since 3 a.m. Yes, you read it right, 3 a.m.! They're already finishing their second batch by the time we arrive in late morning.
The three cheeses they make in each batch are: primosale, caciotta and ricotta. We're just in time to witness the making of the last of these three fresh cheeses, the ricotta (ricotta, by the way, means "recooked").  
Made from the sheep and cows milk from their own farm animals, Cosima is standing at a huge cauldron. She expertly hand stirs over a perfectly calibrated fire with a wooden paddle for 1-1/2 hours…twice a day! Experience and love are her secret ingredients. When I ask her how long she has been doing this, she laughs and says ever since she can remember!
As the liquid starts to separate into curds and whey (there you go Little Miss Muffet!)… she starts to skim off the curds into perforated "basket" containers. The liquid will drain off leaving about the freshest ricotta you can imagine. Once it cools, we sample… and OMG, it is molto buono!
Cosima and Luigi sell only to locals who pick up their fresh cheese daily. No doubt this truly a labor of love and it tastes like it! It doesn't get any fresher or more delicious…oh, to live in the neighborhood!
Grazie, Cosima and Luigi!
This slideshow requires JavaScript.

Let's Visit Luca of Pasticceria Luca Capilungo for Pastry Making
In the more residential section of Lecce, you will find Luca Capilungo's Pasticceria. And I suggest that you find it! An absolute feast for your sweet tooth, Pasticceria Luca Capilungo is the result of one man's passion.
Luca's day begins at 4 a.m. but we arrive closer to lunch. A pastry maker since he was 14 years old, at the age of 23, Luca opened his own pasticceria and now employs 14 others. Together they offer a mouth-watering assortment of dolci (sweets) that will please any sweet tooth (even mine!). The hardest decision? What to pick! Everything looks delectable..
However, we're here to see and experience the making of pasticciotto. Pasticiotto is a specialty of Lecce (and may I concur that it is special!).  Obviously it's a local favorite since 100-150 are made daily (more in summer) and over 600 on Sundays!
Today we get a "hands on" demonstration by Luca. He expertly demonstrates how each pasticciotto is individually made and baked in its own mini pan. Using simple ingredients, pastry dough and custard filling, Luca makes it looks easy enough… We try our hand…well…it's fun to try and even more fun to sample while they're still warm and fresh! Molto buono!!
Before we leave, we can't resist temptation and you won't either!
Grazie, Luca!
This slideshow requires JavaScript.

Let's Visit Gabrielle at Gelateria Tentazioni for Gelato Making
The day at Gelateria Tentazioni begins at 6 a.m. and lasts until 12 a.m. Two shifts produce 70 flavors of gelato daily – yes, that's what artiginale means – made fresh daily on the premises with only fresh and natural ingredients.
Gelateria Tentazioni opened seven years ago and that's how long Gabrielle has been working here. Today, along with Michela and Paola, he is going to make fresh gelato!
When asked he tells us that nocciola (hazelnut), cioccolato (chocolate) and pistachio (pistacchio) are the three most popular flavors (and happen to be 3 of my favorites).
Today we will sample pistachio. Right before our eyes, Gabrielle shows us how their basic gelato is made first and then the flavors are added. (In this case, its  the secret ingredients that makes it their pistachio.)
After it's made it has to refrigerate for 8 hours – ohno! But…there is some already made that we can sample…Excellent! Spoons ready, there's a chorus of ummmmm's and mmmmmmm's….delicious!
Grazie, Gabrielle!
Visit Gelateria Tentrazioni and read more about why gelato is NOT ice cream!
This slideshow requires JavaScript.

Let's Watch Antonio of La Cartapesta di Pallara e Caricato Demonstrate a Local Craft…
A craft very unique to Salento is cartapesta, papier maché. No,not the papier maché you did in elementary school…papier maché as an art form.
In fact, because there was a lack of other materials, many spectacular statues and even a ceiling in one of the cathedrals is actually constructed of paper maché! And trust me, you would never suspect it unless it was pointed out to you!
In Lecce's main old town, you will find La Cartapesta and if you go a few steps past their showroom you will find the workshop of Antonio and his wife, Rosaria. In this tiny workspace, they handcraft cartapesta figurines of all shapes and sizes.
Using a few basic stock forms and tools with a special paper and paste, Antonio begins to practice his craft, a craft that he learned from his wife and has perfected over 30 years. Starting with a wire and straw "stick man" that only has a head, hands and feet, he begins to tear off pieces of paper, then quickly wet and mold them onto the form.  It starts to take shape…a shirt, pants, a vest, a coat, a hat…right before our eyes, Antonio creates and assembles a figurine of a fisherman! It will dry in a few days, then be burnished and painted. Needless to say we are impressed and delighted! (As a matter of fact, one of our couples decides to buy the fisherman when it's finished!)
Back in their shop, Antonio, Rosaria, and their daughter, Elisabetta proudly display a wide array of figurines that are for sale. It's hard to choose one…but we all managed to pick a favorite!
Grazie, Antonio and Rosaria!
This slideshow requires JavaScript.


It was a pleasure and a privilege to visit these wonderful artisans.  I hope you've enjoyed your virtual visit as well?
I'm looking forward to revisiting them in fall 2014 and in 2015, maybe you'll join me and experience it all for yourself?
I have partnered with local experts, YLTours,  to bring you the most authentic, fabulous (and affordable!) Puglia experience possible!
Andiamo! Let's go!

But you don't have to take my word for it!
Read what the Spring 2014 Puglia Group has to say about their experience!