I had the incredible good fortune to visit Rome twice this year. I didn't expect to but I fell so in love with the one and only Eternal City!
I've written a little about my time there and will certainly write more but this post is about something very special that happened this year…twice!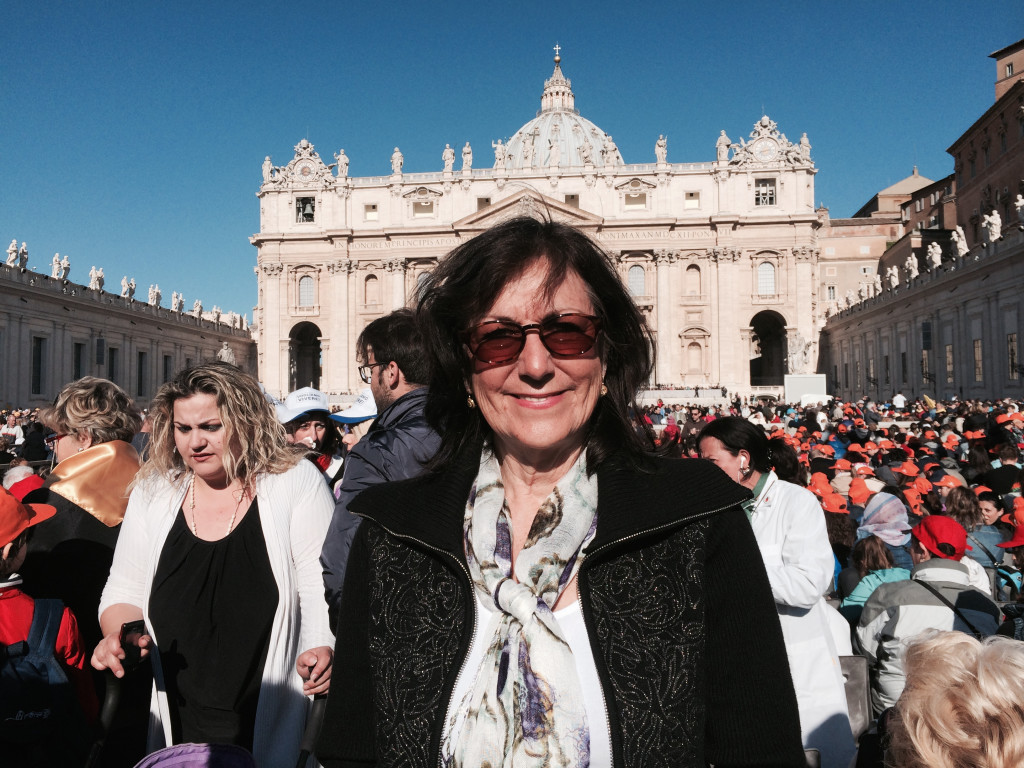 My spring visit in Rome was the first in many, many years and I found planning for my visit quite daunting! Rome is big, it's sprawling, it's a tad intimidating and I was going solo.  After lots of hand wringing and planning, I arrived ready to explore and tackle Capo de Mundo…and I did!
One of the many highlights was an audience with Papa! Yes, that Papa, Pope Francis! The wonderful people at my B&B, A View of Rome (which is literally 5 minutes from the Vatican) helped me to get my ticket for his weekly audience! It's free but the Vatican only releases tickets on the Monday before the Wednesday audience.
Si, if he's in town, every Wednesday the Pope holds a private audience…OK, not a private audience…it was an audience with me and about 9,999 others but, it was indeed memorable and certainly one of those "once-in-a-lifetime" experiences!
My ticket gave me admission to the seated area and, even though I arrived over 2 hours early, it was already quite full. What energy though! Everyone was so excited knowing that they were going to see Pope Francis; People were visiting, literally, from all over the world for a glimpse of Papa!
When he did arrive, cheers and the waving of pennants and  flags followed him as he was motored around the entire Piazza in his pope-mobile.  Waving and occasionally stopping to kiss a small child or baby, everyone was absolutely beside themselves with excitement! (Yes, I was, too!)
He gave a speech from a dais on the steps of St. Peter's which we could watch on huge screens and was translated to the adoring crowd in multiple languages.
This Pope, Pope Francesco, has certainly captured the hearts of millions! And when he blessed us, we felt truly blessed…


Returning to Rome in fall, I wasn't going to be there on a Wednesday and had lots of other events/tours planned. I did stay, of course, with my fav B&B owners, Daniele and Livio, near St. Peter's.
Being out and about all day, by the time evening came I was usually pretty worn out but, on Saturday evening it was a beautiful night and I decided to take a stroll over to St. Peter's Square.
St. Peter's is gorgeous at night and usually quite devoid of the throngs of tourists…but not this night… As I approached I saw that security was on duty at the entrance to the Piazza… and then I saw the huge crowd!
Ah, it was October 4th, the Feast of St. Francis! And the Piazza was filled with thousands and thousands of worshipers, most holding candles and in respectful silence listening to Papa…
I had happened upon a celebration of my favorite saint and the namesake of Pope Francis, San Franceso!
Candles, singing, ceremony…twice blessed, indeed!