Last spring (2014) I took a fabulous tour of ancient Rome and the coliseum with Walks of Italy. When my plans were going to bring me back to Rome in fall, I contacted them about taking another tour as their guest and they generously obliged…
When in Rome…
Eat and Drink Like the Romans!!!
If you read and enjoyed my post about my delightful culinary amble through the Testaccio neighborhood with EatingItaly, then you'll enjoy following me today to another famous foodie destination…
The "Parione" with Walks of Italy
Yes, I took two food walking tours in Rome! And I loved every bite! Both the Testaccio and the Campo de'Fiori and Historic Center (known as "Parione") are touted as the places to eat like a Roman and I decided to find out for myself…


A Good Way to Start the Day…in Campo de' Fiori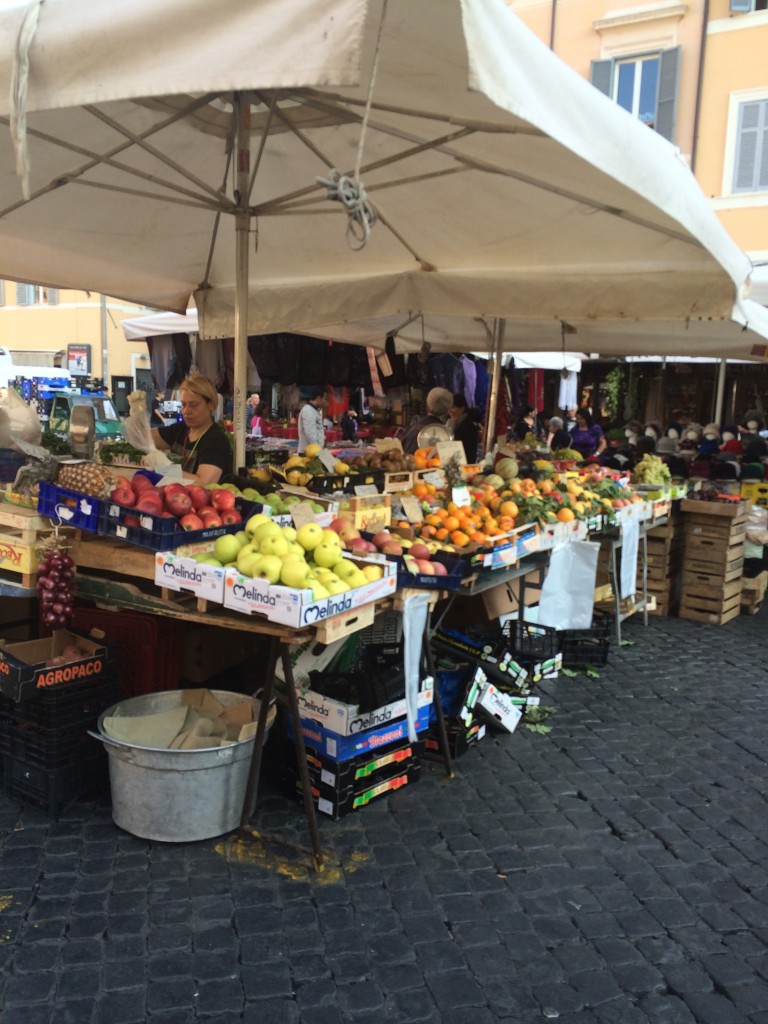 Our foodie walking tour centered around local favorites close to the Campo de'Fiori (field of flowers) in the heart of Rome's historical center. It's hard not to be distracted by the array of seasonal fresh vegetables and fruits along with t-shirts, souvenirs, gadgets, seasonings, sandwiches, olive oils, flowers (naturally), and just about anything else you need!
We met Joseph, our guide, in the very center of this bustling daily (except Sundays, of course) market and he tells us about its rich history as an integral part of Rome for centuries.
Around the perimeter, you will find more tempting food shops (e.g., meat, bakery, cheese), outdoor cafes, ristorantes, gelaterias... not to mention, numerous attractive boutiques and shops displaying the latest in fashion. Follow any side street (which is what we did) and enjoy wandering and losing yourself in a appealing maze of delights!
So, let's begin, shall we?
This slideshow requires JavaScript.


First a Roman Breakfast…Pizza Bianca at Forno Roscioli
A Family Tradition in the Heart of Rome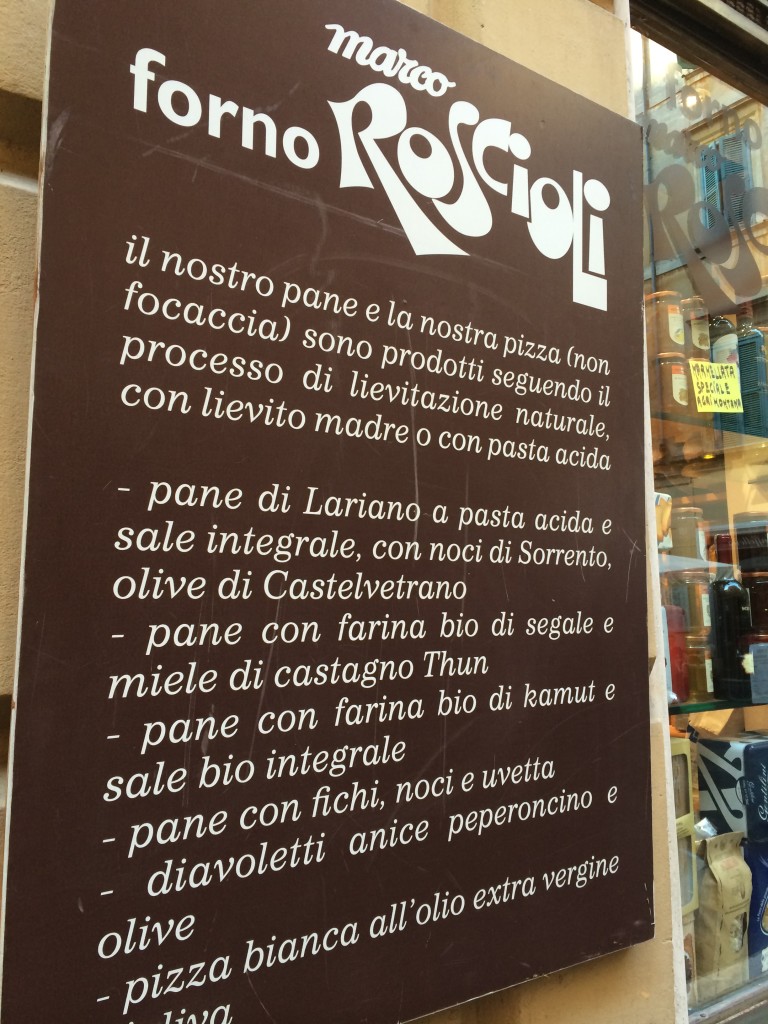 Roscioli is packed!  It's early and it's obviously a local favorite. We have to cozy up to get a better view of their creations. OMG! There's an incredible assortment of breads and baked goods and, everything here is made daily with the best ingredients and no preservatives. We'll be sampling the pizza bianca, a typical Roman choice. Molto buono! Watch out spandex!

Roscioli has two nearby locations; the bakery and a restaurant/delicatessen/wine bar where  you can get just about anything your taste buds desire!
Give me a cappuccino and I could've grazed here all morning…but we must move on…
Grazie Roscioli!

This slideshow requires JavaScript.


Next Stop: Monica's Olive Oils & Balsamics in Campo de'Fiori
Four Generations of Quality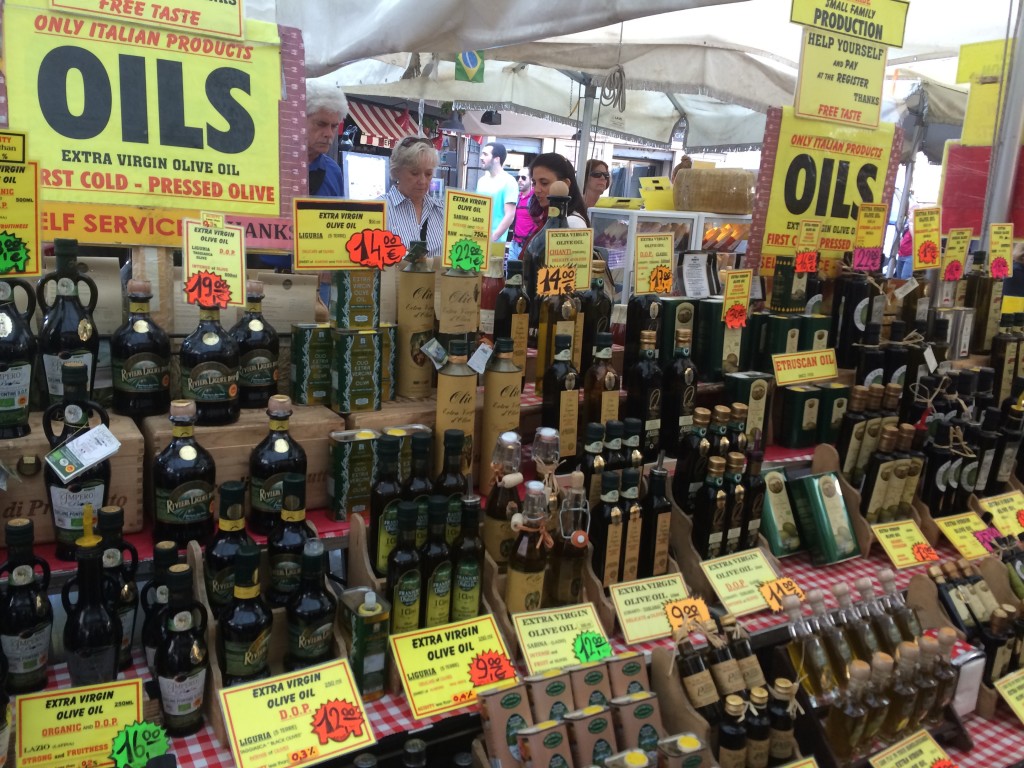 Monica's stand is packed with olive oils and balsamic vinegars from all over Italy. We taste and compare olive oils from Sicily, Umbria, Tuscany and, of course, Lazio. Each has its own unique characteristics and flavor and as we sample, we are educated about the nuances of each and which oils are best with which foods.
After the olive oils, we sample balsamic vinegars of different ages. Some are tart and tangy, some are sweet and thick. We sample both the traditional (cooked) and the original (aged) varieties. They are all fabulous!
That's not all that Monica offers! Balsamic glacés, white and black truffle patés and liqeurs made from various fruits/vegetables such as strawberry, peach, lemon (limoncello), even fennel! These are just a few of the delicacies to choose from.

I vow to return (and I did) to bring a few of these gourmet treats home.
Grazie Monica!
This slideshow requires JavaScript.


Antica Norcineria Viola with Paolo
A Family Tradition Since 1890
Antica Norcineria Viola has been providing locals with premium quality meats for generations…well, since 1890!
Paolo now carries on the proud family tradition of raising and curing everything you see…and there's a lot to see! Yes, they raise the animals in Umbria (Norcia is known for the highest quality meat) and overseeing every step in the process, Paolo will even proudly slice and wrap your selections for you.
Our salumi samples, paired with a little vino, include selections cured with truffle, Barolo wine, and a spicy pepperoni. Buon appetito!
Grazie Paolo!
This slideshow requires JavaScript.


Coop Latte Cisternino with Gianni & Paola
Say Favoloso Cheese!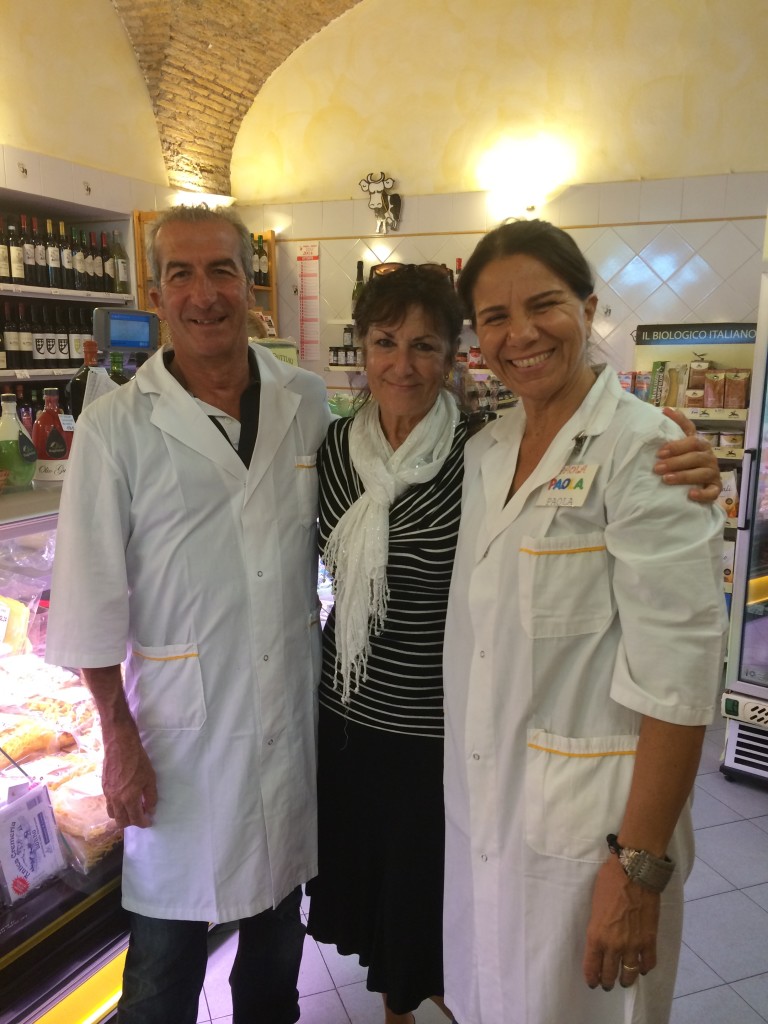 It would be easy to walk right by Coop Latte Cisternino. An unassuming storefront belies the rich assortment of cheeses sourced daily from all over Italy and offered by Gianni and Paola. 

Our tastes include five (5) hard cheeses and three (3) soft. The hard cheeses include parmesan (cow), an aged pecorino (sheep), a younger pecorino, a pecorino with saffron and black pepper and a cow cheese with chili from Sicily. A-maz-ing!!
The three soft samples include: bufala mozzarella from Campania, a smoked mozzarella, and a simply divine burrata from Puglia.
Paired with a little vino, these tidbits are delectable! (I love cheese, so I'm in heaven!) As Joseph said, it's a "foodgasm"!
Grazie Gianni and Paola!


Making Pizza at Bomba Ciccia Ristorante Pizzeria!
Bring on the Aprons & Rolling Pins! It's Time to Cook!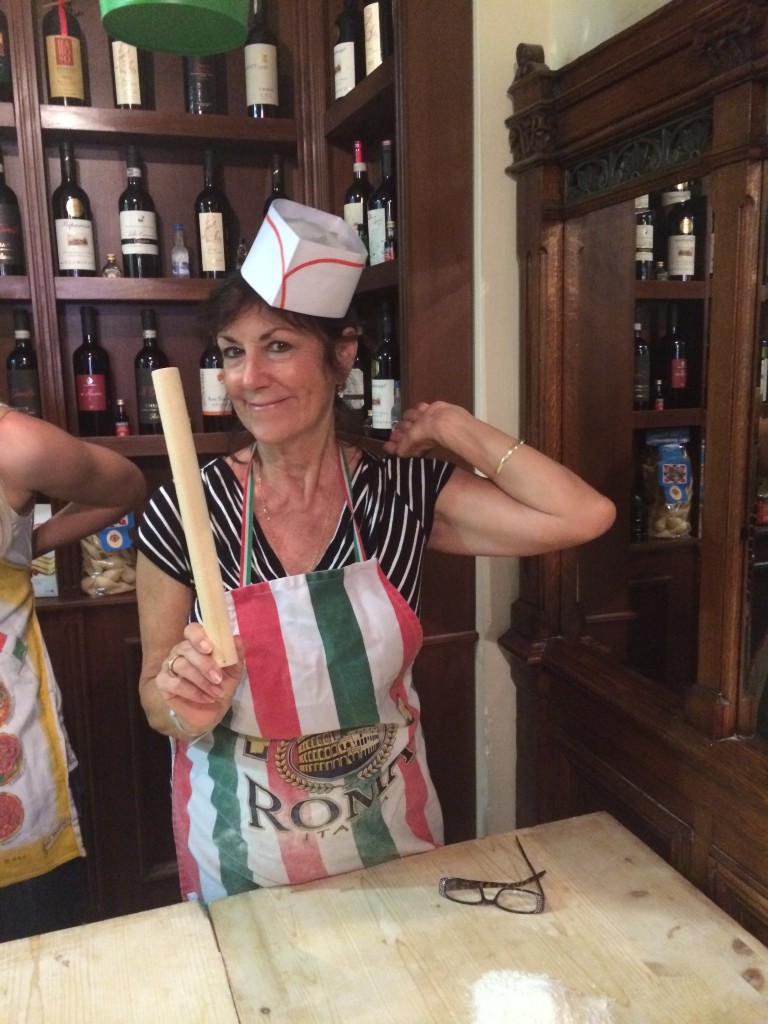 The grande finale to this delightful tour is making our own pizzas! We invade Bomba Ciccia and are quickly given our official pizziaola aprons, hats and rolling pins!
We each have our own board, pre-made dough and are given explicit "rolling out the dough" instructions and a demonstration by Joseph. All I can say is, it looks easier than it is but it still tasted fantastic!
 Romans roll out a thin crust (which I love), then add tomato, mozzarella and toppings. Traditionally, it's not advised to add more than three (3) toppings but it's hard to choose so some of us break the rules. 10 minutes in the oven and ecco, pizza alla Romana e Vittoria!
Buon appetito!
Grazie Bomba Ciccia!
This slideshow requires JavaScript.
Grazie to My Hosts!
A grateful Grazie to Walks of Italy for hosting me on this wonderful walking tour! And Grazie to all of the local businesses for their generous hospitality. I loved every morsel and nibble!


For more information on this and other tours offered by Walks of Italy, please click here!