Exploring Testaccio: My Eating Italy Food Tour in Rome
When I returned to Rome this fall (2014), I was the recipient of generous opportunities to experience some of her neighborhoods and sites in greater depth. My first experience was with Eating Italy Food Tours.
If you've read any of my blog pages and posts and looked at the photos, you know that I love to eat! So, the opportunity to eat (and imbibe) in the Testaccio neighborhood of Rome was, to say the least, a no-brainer!
My fellow foodies and I met our guide, Kate, and reviewing the seven (7) Tasting Locations, it was apparent we were in for a savory day!
Kate has been doing this tour for 3 years and although she is not a native, she is certainly a foodie after living in Rome for 14 years and now married to an Italian chef. Sharing a wealth of information, great stories and anecdotes, her love for Rome and her work were infectious.
And may I say each stop turned out to be a food revelation so unbuckle your belt, hide the scales and let's begin! Oh, I do want to issue a warning – these photos will absolutely make you ravenous, envious and ready to book your flight to the Eternal City!
Before we set out, a word about the Testaccio. Testaccio is in the heart of Rome and is considered to be "true Roman" and traditional working class. The businesses are family owned and operated, usually 3rd, 4th or even 5th generation. This area has always been about food and we're talking from the 2nd century AD! Rome had 1-1/2 million inhabitants and being near the Tiber port where 90% of the city's food arrived, it was a very busy place!

Stop #1: Barberini for Cornetti & Tiramisù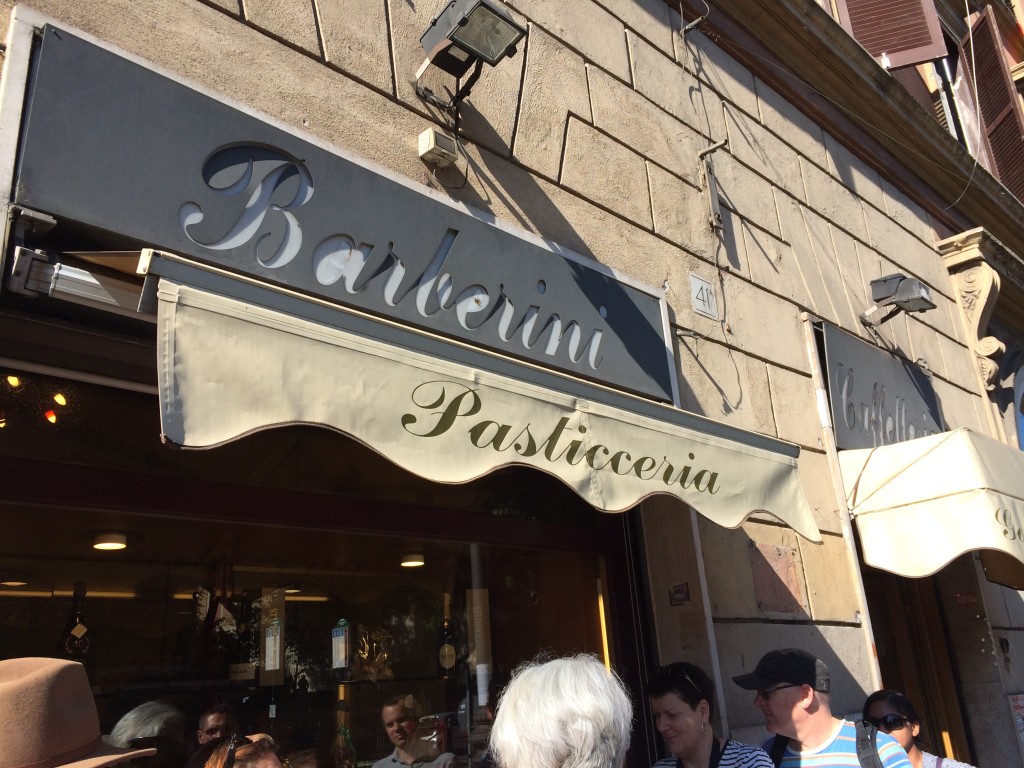 The Italians begin their day with a cappuccino and a sweet (dolci). We began ours with 2! Everything here is made on site – OMG!
Buttery, flaky, light, and delish, the cornetta was a tease. Then came the tiramisù, which means "pick me up" and, served in a chocolate cup, WOW! How do you translate "mmmmmmmm"? Well, you just had to be there!

This slideshow requires JavaScript.
Barberini is located on Via Mamorata, 41

Stop #2: Volpetti for Prosciutto di San Daniele, Salame al Barolo, Pecorino al Tartufo, Parmigiano Reggiano
Volpetti is owned and operated by two brothers, Emilio and Claudio. It's considered the "Prada" of food shops. With over 150 cheeses and 30 salami, prosciuttos from all over Europe and balsamics ranging from 5-100 years old…well, we came to the right place!
Time for a sampler of some salumi (cured) meats and formaggi (cheeses). Just looking in the window was enough to make us salivate! Sweet and delicate prosciutto di San Daniele which virtually melts in your mouth, salami cured with Barolo wine, the pecorino (sheep milk) with subtle truffle overtones and the parmigiano reggiano (cow milk) from Emilia-Romagna were divine.
We are educated about our tasty bites and then given the opportunity to walk through Volpetti, enjoy a taste of balsamic and meet the congenial owners as well as Gino and Alessandro.

This slideshow requires JavaScript.
Volpetti is located at Via Marmorata, 47

Stop #3: Volpetti Più – Tavola Calda for Pizza Margherita
An extension of Volpetti, at Volpetti Più Tavola Calda you choose from an eye popping array of hot dishes, salads and, of course, pizza by the slice which is weighed (luckily they don't weigh us!) and then sit and dine.
With the incredible and enticing selection, I'm not sure how anyone can decide! I want to taste everything…but alas, we were only there for pizza margherita and Otavio was more than happy to serve us!
In case you didn't know it, pizza was invented in Naples and only came to Rome after World War II–but not from Rome, from New York City! The pizza here is very thin and served al taglio (by the slice). There are 5400 pizza shops in Rome – I think we had the best! We certainly had the pizziaolo (pizza maker) with the best personality!

This slideshow requires JavaScript.
Volpetti Più is located on Via Alessandro Volta 8

Sidetrip to a Cemetery
This may sound like an unlikely stop for a food tour but, in fact, it was quite fascinating. This cemetery, L'Antico Cimitero per Stranieri Non Cattolici, for non-Catholics is actually where you will find many luminaries who died and requested burial in Rome.
One of the more famous "residents" is John Keats. Among many touching sites is the Angel of Grief dedicated by a grieving spouse to his wife. Quiet, serene, peaceful.

This slideshow requires JavaScript.

Stop #4: Testaccio Market for Insalata Caprese, Bruschetta al Pomodoro and Cannoli
Over 100 years old, the Testaccio Market has undergone a transformation and reopened two years ago. It took some time for locals to adapt and adopt but now it's definitely a favorite. What was once a neighborhood to avoid is now the hub of a bustling local social scene.
As we are guided through the Market, it's hard not to be distracted by the beautiful selections and displays. We want to touch, smell and taste everything!
First a little insalata caprese made with fresh fresh fresh tomatoes and mozzarella – oh my! And we don't want to waste any of those tomatoes so we pick up some fresh toasted bread and have a little bruschetta al pommodoro with Lina and Enzo. They have been married for 41 years and he has been a butcher since he was 11!  Simple, fresh, delicious!
Our last stop here is a bit of Sicily where Costanza and Roberto make fresh cannoli (my favorite!) from their grandmother's recipe! Heaven!

This slideshow requires JavaScript.
Testaccio Market is located at Via B. Franklin
Another unlikely stop for a food tour but, again, interesting and certainly a huge part of Testaccio's story. The slaughterhouse, which operated from 1890-1975, was 16 football fields large with 2,000 workers! That is BIG! At the time, it was on the outskirts of Rome but as residential Rome grew, it was closed and now the pavilions are used for museums and cultural events.

This slideshow requires JavaScript.

Stop #5: Flavio al Velavevodetto for a traditional Roman pasta lunch; Cacio e Pepe, Amatriciana & Carbonara
Pasta pasta pasta…and vino, of course! Cacio e pepe (cheese and pepper) is  spaghetti prepared with Pecorino Romano, and lots of freshly ground pepper while our Amatriciana and Carbonara were rigatoni slathered in delicious traditional sauces.
Our lively group enjoys the tasty traditional lunch and wine in a congenial setting. Oh, we have two more food stops???

This slideshow requires JavaScript.
Flavio al Velavevodetto is located at Vial del Monte, 97

Stop #6: 00100 Pizza for Supplì alla Genovese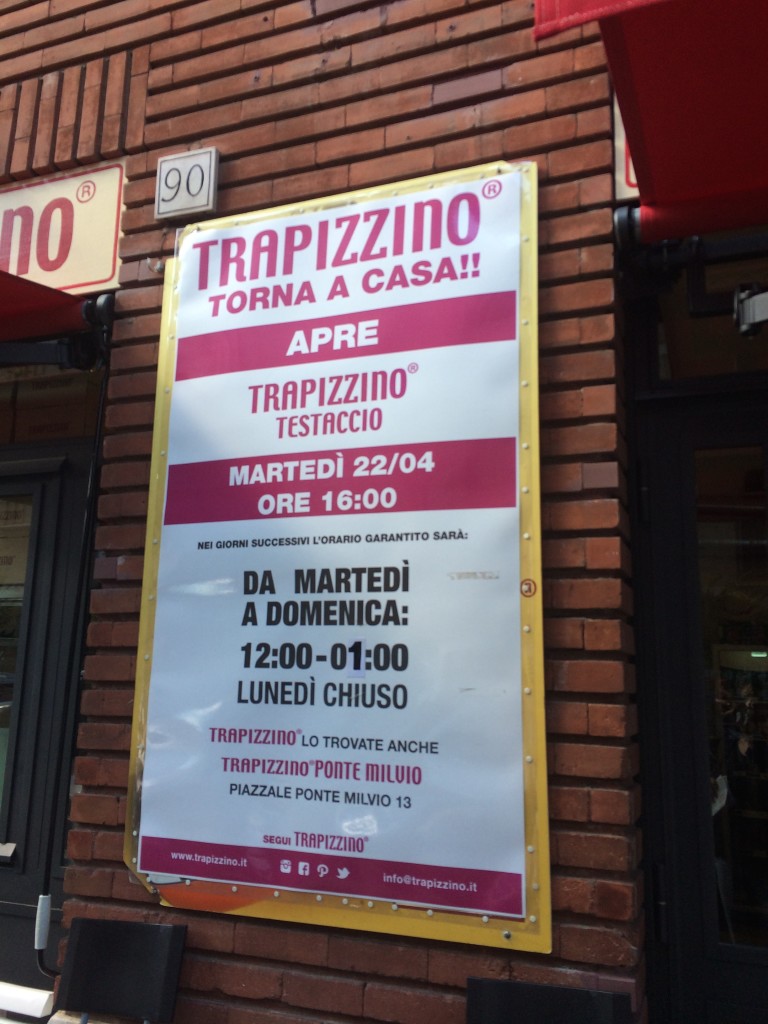 How on earth is there room for one more taste? Somehow we managed! 00100 offers sublime street food– Pizza and Trappizzino. Our taste is of his own version of arancini or supplì – an arborio rice ball made with beef stock and delicately coated and deep fried. Steaming hot, it literally falls apart with freshness and flavor…
00100 Pizza is located  at Via Giovanni Branca, 88
The perfect finale to a perfect experience! We are educated about gelato – the real thing vs. the impostors- and then treated to two flavors of our choice!
Giolitti has been making gelato for 100 years so tradition and pride are certainly included ingredients every day! Fabio serves us with gusto and enthusiasm – oh, what to choose?? I decide on menta (mint) and nocciola (hazelnut)…with panne (whipped cream)! Oh, why not? I'm not counting calories today, are you?

This slideshow requires JavaScript.
Giolitti is located on Via A. Vespucci, 35

Grazie to My Hosts!
I was so thrilled to meet Maria Pasquale, Rome Marketing and Social Media Director for EatingItalyFoodTours.com. Maria was my gracious contact and responsible for hosting me on this divine tour.
Grazie Maria, Kate and all of the hosting businesses!
I'm am truly a Rome Food Lover now!!

For more information on this and other tours offered by EatingEurope and EatingItaly, please click here!